When it rains and it's cold outside you probably don't think about sitting outside. Even though it can be wonderful that cold fresh wind! Gone are the days when you could go out in shorts. It is getting colder and days are getting shorter. As a result, we usually stay indoors more often to enjoy a cup of tea, coffee or hot chocolate. Thinking about how to enjoy your patio during winter sometimes doesn't even come to mind.
Yet you can also sit outside in the fresh air in the cold months. Not only cozy, but also good for your health! The next 7 tips will show you what you can do to enjoy your patio during winter so you can enjoy the outside all year round.
How to Enjoy Your Patio During Winter
1. Good preparation
Do you not only want to enjoy a nice and warm patio, but also have a good view? Get your garden ready for winter! You can also add plants to the patio that can take a beating.
You can quickly make a patio cozy with plants. Unfortunately, not all plants are suitable for autumn or winter. There are also plants that start to look bare during these cold months.
You can easily brighten up your patio with plants that are suitable for autumn and winter:
Fuchsia 'David'
Winter heather (Erica Carnea)
Carnation
American Wintergreen (Gaultheria Procumbens)
Succulents such as the Sempervivum
Plants not only provide coziness. They absorb moisture. This makes the patio less humid. This makes it easier to heat up the patio.
2. Choose warm clothing
Make sure the place you're sitting on doesn't feel cold. You can easily solve this by choosing a blanket over the seat. You can also add pillows to make it warmer.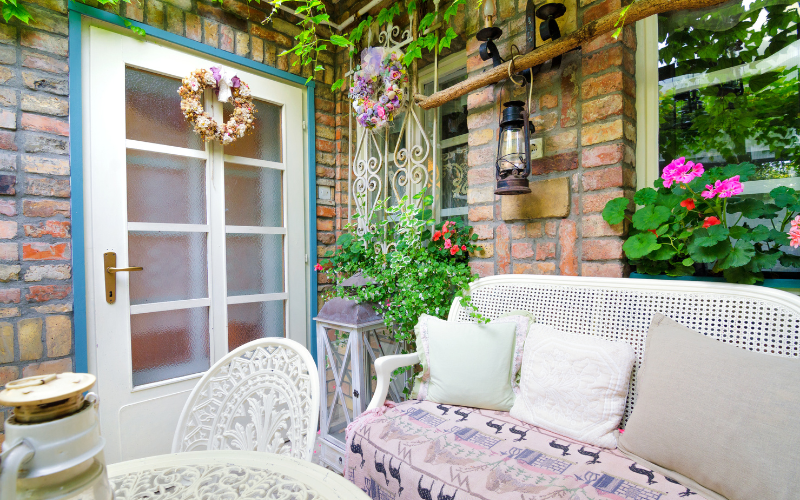 In addition to blankets and pillows, you can also add candles to the patio. Not only to light up the place and add a little more coziness; although candles are very small, they do give off heat. A decorative and budget-friendly solution!
If you have a closed pation, adding a rug to the floor is also very good against the cold. Cold often remains in the ground, so that the room does not heat up very quickly. This is actually just like with feet! Once feet are cold it is difficult to get completely warm.
By placing a rug on the floor, you ensure that the ground is protected against the worst cold. Which also makes heating the room easier.
Just make sure that the blankets, rugs and pillows are weather resistant. If you have an open patio, it is better to bring the pillows and blankets inside.
3. Build a closed patio
What kind of patio do you have? A closed patio? Then you already have an advantage in terms of cold! A closed patio also attracts less dust than an open patio.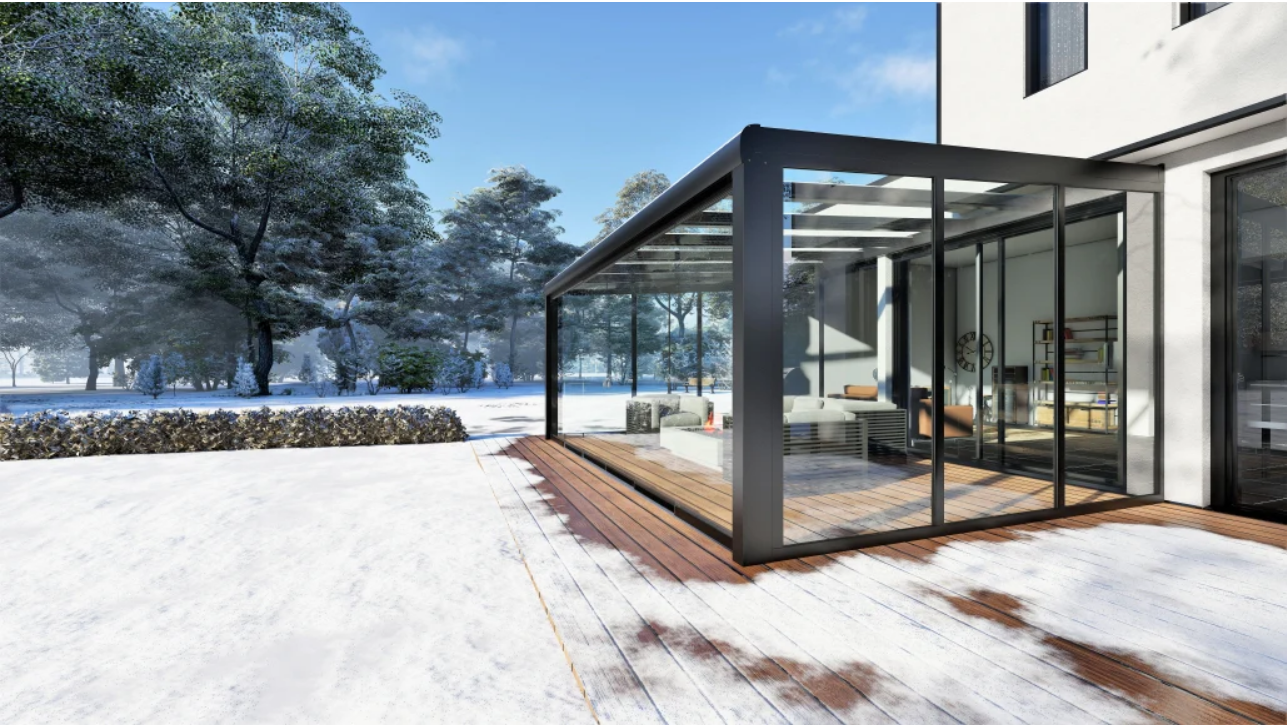 Do you currently have an open patio? It may be a good idea to install sliding glass doors or windows in both directions. This way you have the option of a closed and open patio.
As for decoration, glass can also be useful. This gives you many more options for decorating. The glass protects the decoration better against the cold and wet weather conditions.
4. Place a fireplace or stove
The most logical way to heat a patio is with a fireplace or stove. Even with an open patio, the heat from a fireplace or stove can warm up the room well.
You can easily turn on the heater on the spot and sit comfortably close to it. Depending on the type of heater, the room is well heated within half an hour.
In addition to the fact that a fireplace or stove provides warmth, this is also very cozy. The stove also scores a lot of points decoratively!
5. Use heaters
There are many types of heaters available nowadays. There are standing heaters that don't have to be attached to a wall or ceiling. You can place them anywhere you want on your patio.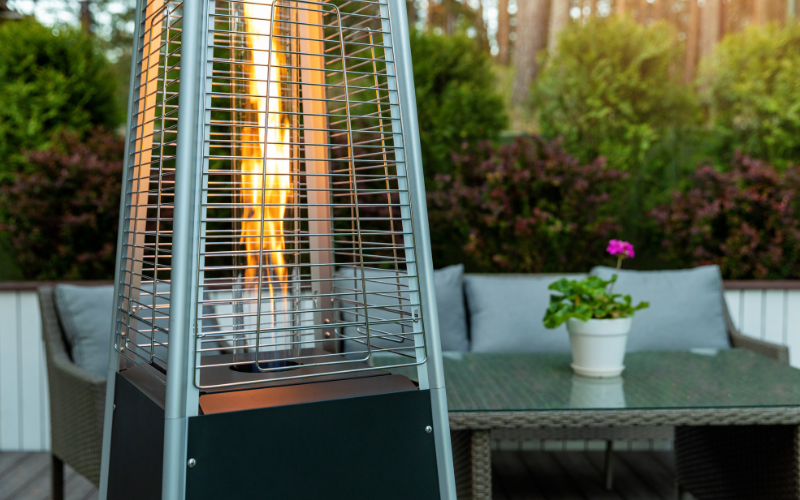 In addition, a heater has the advantage that they have an even and fast heat dissipation. Perhaps the simplest solution to use a patio on cold days!
For the best heater for your patio, check out our recommendations and click here.
6. Install an electric fireplace
No matter how cozy and warm a fireplace or stove is, it is not completely environmentally friendly. In order not to pollute the environment even more, you can opt for an electric fireplace. Perhaps less attractive, but easier to maintain. And less dangerous for children and/or pets of course!
Electric fireplaces do not require an air intake therefore it can be used on a closed patio.
There is more and more choice when it comes to the design of the electric fireplace. There are different shapes and sizes available. So plenty of options!
7. Have underfloor heating installed
Perhaps not the most obvious solution: underfloor heating. With a closed patio you can also use underfloor heating. This works on a larger surface, which provides an entire area with heat. Thanks to underfloor heating, it is even possible to sit or lie on the floor for optimal warmth. It also doesn't take any space from your patio unlike a heater for example.
Despite being a pretty good solution, unfortunately, the costs are a bit on the high side.
Here they were! Our tips. Unfortunately, not every tip may apply to you, but tip 1 is certainly simple and cheap to implement.
---